Meet Dr. Eric Luper
Discovering Chiropractic
"My father spent half my childhood laid up," says Dr. Luper, when asked to explain what brought him to chiropractic. "He had neck and lower back trouble and sought out every form of care available. I remember all sorts of traction devices, splints, braces and belts around the house. I also remember all the medicine bottles and the grueling experience of several surgeries. None of it worked. "That is," Dr. Luper explains, "until he saw a chiropractor."
Dr. Luper knew that chiropractic would never rebuild his father's degenerative discs and bones. He knew it would never replace what the surgeons cut out. However, he learned how powerful this less-invasive, more-conservative, gentle and natural form of care could be. And how it could restore activity levels and quality of life as well as return people to healthier lives.
Dr. Luper began his pre-chiropractic education at Rutgers University where received his bachelor's degree and studied the basic sciences such as inorganic chemistry, organic chemistry, and biology, along with basic physiology and anatomy. After completing his study there, he was accepted at New York Chiropractic College in Seneca Falls, New York. During his four years at NYCC, he studied biochemistry, anatomy and human physiology, X-ray, diagnosis, chiropractic adjusting techniques and patient care.

Communication is Key at Peak Performance Chiropractic
After graduating in 1995 as president of his class, Dr. Luper worked in a large multi-disciplinary practice in New Jersey where he had the opportunity to work alongside medical doctors and physical therapists in the treatment of professional athletes, entertainers and people of all ages. Within a few years, Dr. Luper was ready to open his own practice and relocated to the Albany area where he has owned and treated patients at Peak Performance Chiropractic ever since.
I love teaching," says Dr. Luper. "Even patients who have been lifelong chiropractic patients tell me they learn something on every visit. I make it a point to explain things in advance, answer questions and communicate, communicate, communicate! Patients appreciate that."


On a Personal Note…
Dr. Luper and his wife, Elaine, have two children, Ethan and Lily. When he is not working in his practice, Dr. Luper can typically be found spending time with his family in Lake George or writing his next novel. Yes, he is a novelist. Go ahead and look him up on Amazon!
Dr. Luper works hard at maintaining a healthy lifestyle, inclusive of diet, exercise and regular chiropractic care.
Preferring to be outdoors rather than in, he works hard not only to maintain and improve his own health, but to set a good example for his children.
"I consider myself an excellent listener and hope I get the opportunity to meet you in person and discuss your specific health challenge. Give our office a call or click here to email me so we can begin to explore your options together."
Books for St. Anne Institute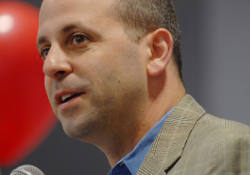 Author Eric Luper, addresses those gathered at St. Anne Institute in Albany, NY on Tuesday, June 8, 2010.
Luper is surrounded by the over 650 books he collected from "author" friends to donate to the institute's library. Luper said that the idea for the project came to him after he was asked to join the Advisory Board and he discovered the library was in need of books the girls would enjoy reading.
- Paul Buckowski / Times Union
---
---
Peak Performance Chiropractic | (518) 472-9130