It's hard to believe we've been here a week already. It's been a lot of fun settling into the new office and we've got some more settling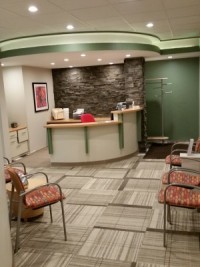 to do. Only a few patients absentmindedly drove to the old location to find the lights off and doors locked!
The new location at 319 Broadway in Menands is beautiful and serves the needs of our patients better than the old spot. We're really excited for the improvements.
For those of you who have not been here yet, please remember that parking is around the rear of the building. You need to drive to the nearest light (just north of us) and wrap around Mancini's Deli onto Canal Road. We're the third building in. Don't worry, it's not as confusing as it sounds.
Also, mark your calendar! We're planning a fun Grand Opening party on Saturday, April 18th, from noon to 2pm. We're doing a ribbon cutting with the mayor, music, food, a bouncy-bounce for the kids and some other surprises. I'll be sending out an invitation soon. Everyone is welcome!
And even if you can't come to our event, feel free to stop by during office hours and say hi. Sue and I would love to see you and show you around.