We're not quite ready, but we will be soon.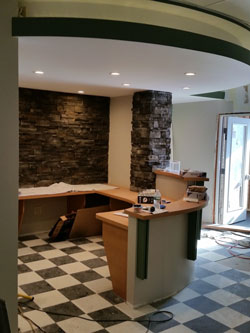 What am I talking about? Our new office, of course!
Over the past 8 years, I've received tons of compliments on my current office in Loudon Plaza–how modern and sleek the design is, how convenient the space is for quick adjustments or full therapy–and it's been a great run. But there have been plenty of details I've always wanted to improve upon.
Recently, I purchased a building at 319 Broadway in Menands. It's right in the downtown area near the Menands Market, Key Bank, the Menands Fire Department and Village Hall and easily accessible to 787, South Troy and Loudonville via Rte 378 (Menands Rd.).
It's also only minutes from downtown Albany, right on the 22 bus line.
The architects and contractors have been busy renovating the space to create the most modern office I know.
And we're almost ready.
The sign just went up yesterday and the big move will be happening at the end of the month. Our grand opening will be on Monday, March 30, 2015. Sue and I are so excited to share our vision with you. I know you'll be pleased.
Please let us know if you need directions. You can call us at 518-472-9130 or reach out via our website.
We're hoping to do a Grand Opening Celebration, a Community Day and a ribbon cutting with the Albany-Colonie Chamber of Commerce, so stay tuned for more information. And please let us know how we can better serve you in your health and wellness needs.
Now, here's a sneak preview!